What The Critics say...


"C. J. Lori, a talented painter of dream worlds..."
— Alicia Faxon, Art History Professor Emerita, Simmons College, writing for Art New England, October/November, 1997

BLOG POST

Array Contemporary, March 8, 2021

Painting in Series, and Why My Trees Leave
By C. J. Lori

On a trip to France in 2005, I was inspired by the agricultural landscape and sky to paint "When the Trees Leave". I was thinking about the threat we have become to our natural environment and remembering Rene Magritte's floating men in bowler hats. I had always anthropomorphized elements of landscape in my work (blades of grass as fingers, rolling hills as curves of naked flesh), so it seemed a logical step to transform Magritte's businessmen into trees.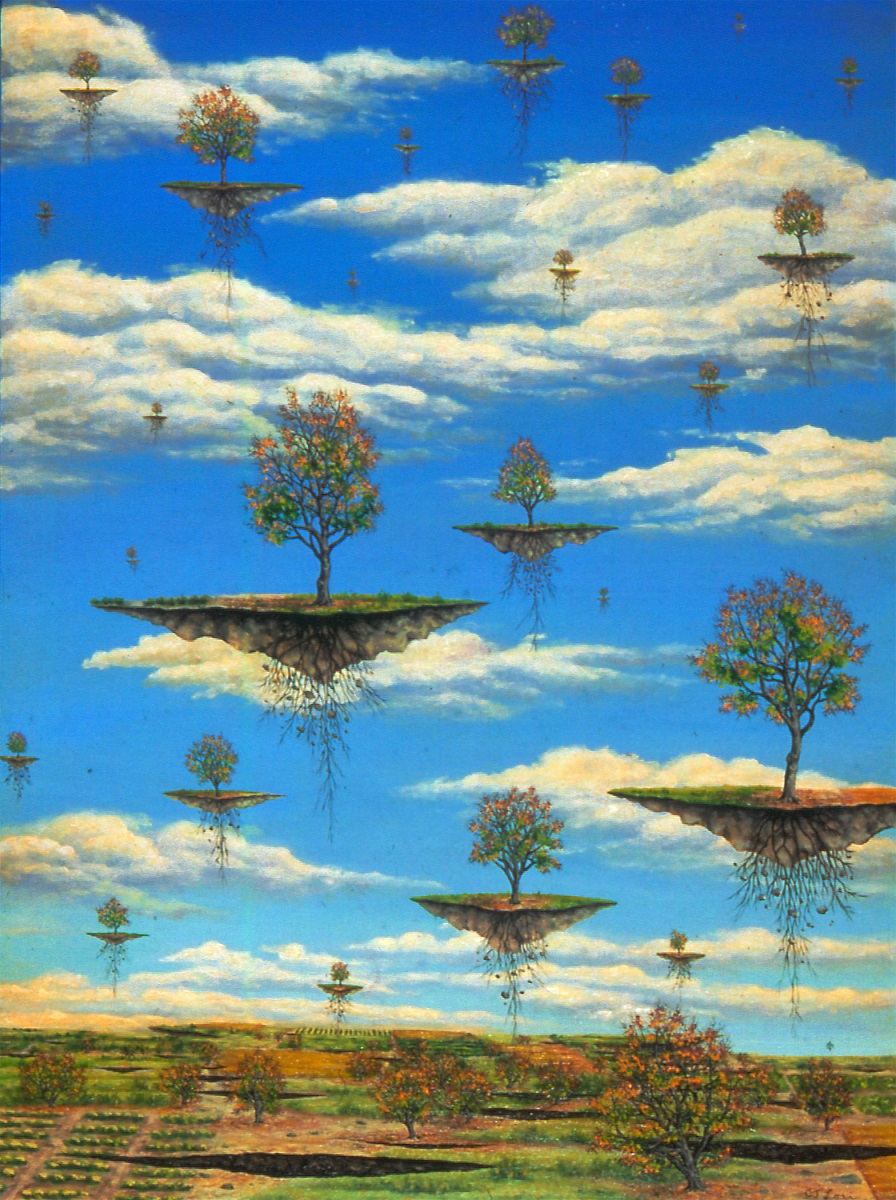 "When the Trees Leave", oil on wood, 24 x 18", ©2005


At times, history became a spark for the series. When Harlech Castle in northern Wales was built in 1289, the Irish Sea came right to its edge. Today, however, the sea has retreated and the castle is surrounded by farmlands and a small town. The castle was the last fortress to surrender under grueling sieges in both the War of the Roses in 1466 and the English Civil War in 1647. I was moved to learn that the song "Men of Harlech" was sung by the Chief of Security for Morgan Stanley's World Trade Center office to keep employee spirits up while they evacuated during the September 11 attacks. After helping save more than 2,700 employees he returned to evacuate others until the towers collapsed on him.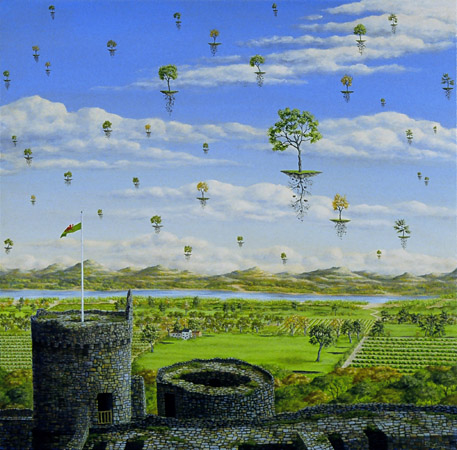 "Harlech Rising", oil on canvas, 30 x 30 x 2", ©2008


When I began this series I never expected to paint more than fifty versions over the years since. Usually I would paint about five pieces in any series of work. But different seasons, different places I travel and my own neighborhood bordering Boston keep offering me new ideas, like this view out my window: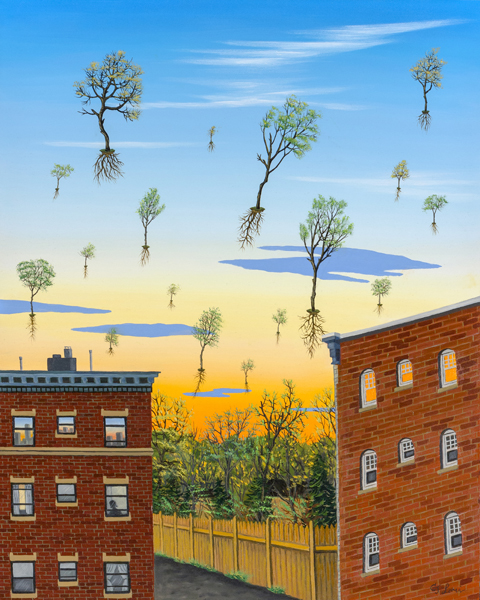 "Leaving the Park" oil on cradled panel, 20 x 16", ©2017


Sometimes they just come from my imagination, like this painting in The Future is Many Colors: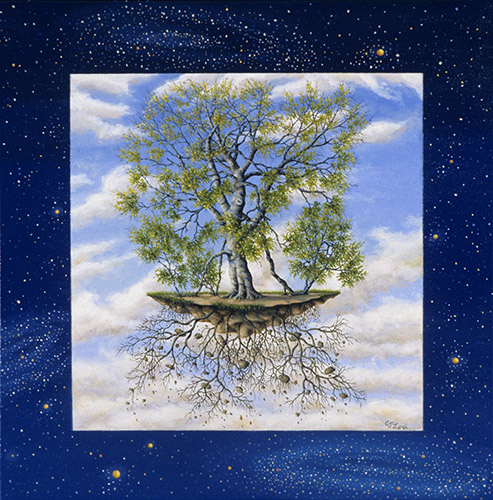 "Endeavor", oil on canvas, 24 x 24 x 2", ©2010


After the 2016 U. S. election, viewers' reactions changed. Rather than expressing feelings of loss or sorrow, they began to show a yearning to join the trees in leaving. That new reaction continues to this day. At one art reception, I heard a viewer make the comment that became the title of this painting that is also in the show: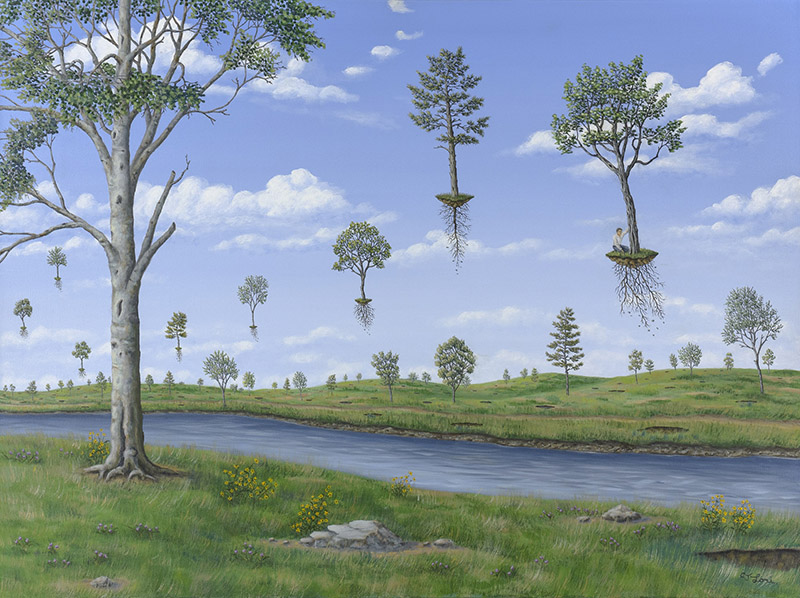 "Take Me With You", oil on canvas, 30 x 40", ©2018


Cape Cod had always been a favorite subject matter, and I found the trees left there too.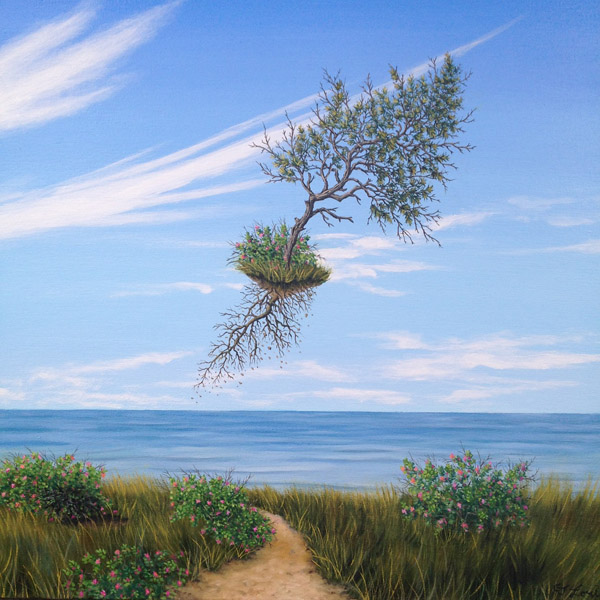 "Leaving the Tide", oil on canvas, 24 x 24", ©2020


When the pandemic hit, I continued the series, but with a different twist. Rather than one tree or lots of trees leaving, big chunks of land were leaving, like this piece with a solitary house reflecting our isolation: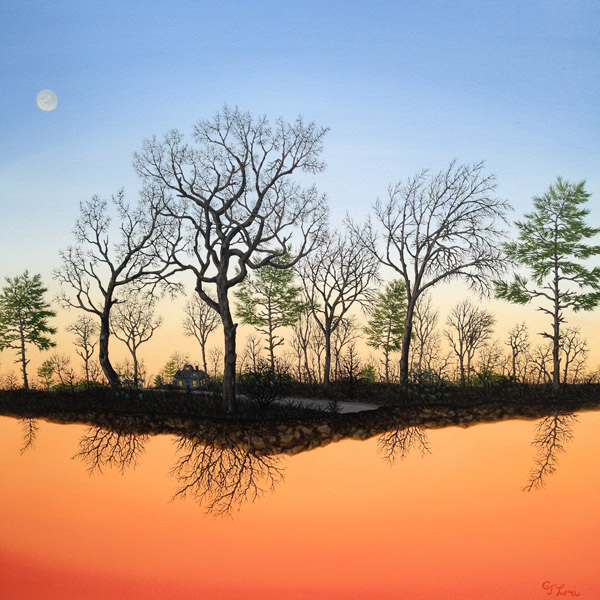 "Twilight Flight", oil on canvas, 30 x 30", ©2020


Painting this series has been a journey of exploration, contemplation, then expression. I have found it deeply gratifying to keep it fresh and evolving with ever expanding meaning.
REVIEWS & ARTICLES
Artscope Magazine,
2022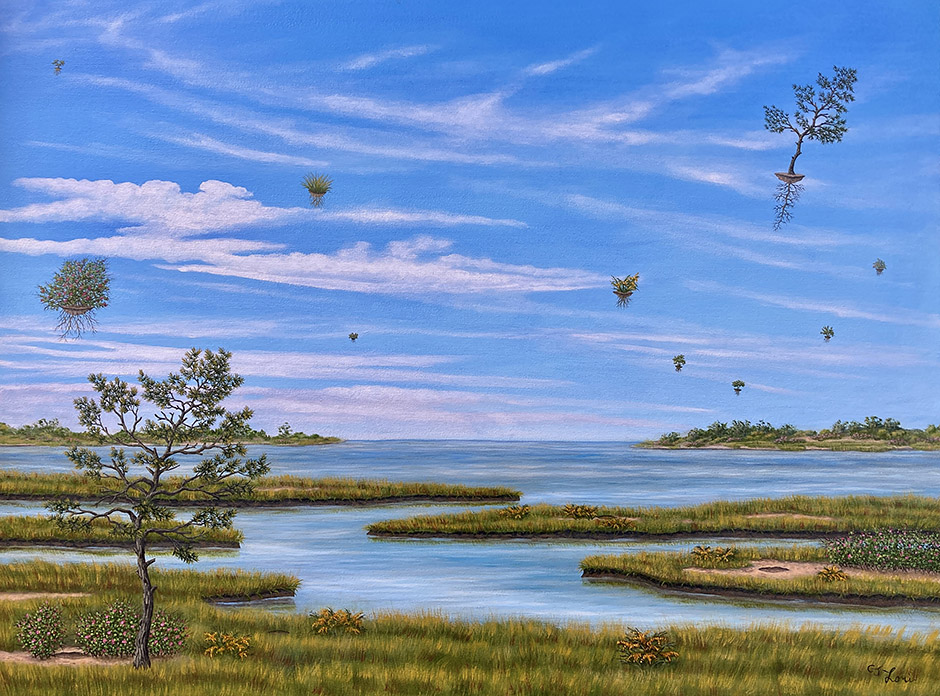 "Rising", oil on canvas, 30 x 40", ©2021
"Currently in its seventh exhibition at the Atlantic Wharf Gallery in downtown Boston, the group show

Shared Habitat Earth

is a vibrant and eclectic collection of works all connected to the central theme of combating climate change. The words "Shared Habitat Earth" came to local artist Barbara Eskin while walking through the woods, and the meaning behind them was revealed through conversations with her creative community. The intent of the show is to interweave art and activism, using the works as a way to inspire viewers into action, all the while keeping them grounded in their empathy and humanity. In the show's description: Shared Habitat Earth (SHE) suggests cross species respect, intercultural solidarity and a shared sense of responsibility, and, in the face of enormous threats to our habitat, it calls for action. The 40 artists in the exhibition use their creativity to fight against discouragement in the face of the daunting task of stopping climate change, and the strength of emotion displayed is palpable...

Trees are one of the first things you notice upon entering the first-floor gallery, exquisitely detailed paintings of trees, and photographs capturing a particular tree's independent character. Who gets tired of trees? However, after encountering several images depicting arboreous beauty, seeing C.J. Lori's surrealist painting 'Rising' feels jarring. In this piece, trees along a familiar New England saltmarsh are uprooted and floating up into the sky. Initially inspired by Magritte's floating men, Lori's "Rising" is at once whimsical, but in the context of climate change, also evokes a feeling of desperation."

Download .pdf >
Watertown News,
2022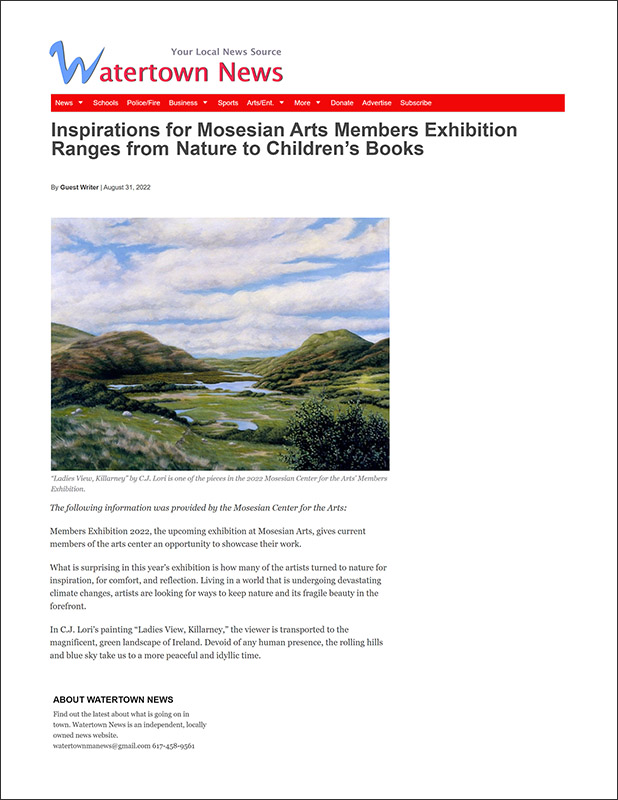 "In C.J. Lori's painting 'Ladies' View, Killarney', the viewer is transported to the magnificent, green landscape of Ireland. Devoid of any human presence, the rolling hills and blue sky take us to a more peaceful and idyllic time."

Download .pdf >
Dig,
2022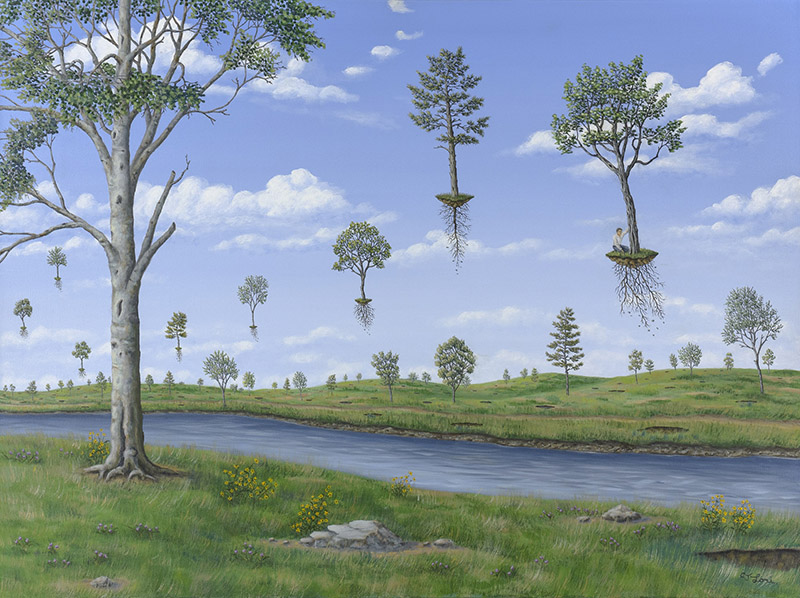 "Take Me With You", oil on canvas, 30 x 40", ©2018
"Dig This: In the Presence of Trees at the Kathryn Scultz Gallery"

Curated by Robin MacDonald-Foley,

In the Presence of Trees

"personalizes a journey into our relationships with trees through the artists' visions." "The collaboration connects individual perspectives through painting, mixed media, photography, and performance, in recreated, real, and imagined tree forms."

More from the hosting Cambridge Art Association below:

Trees play a central role in the lives of human beings collectively, sheltering and nourishing us physically and spiritually. Changing with seasonal climates, they provide vital habitats and food for wildlife, beautify our landscape, and define our living spaces. They can evoke metaphysical connections transforming all living matter, and have been worshiped in sacred rituals such as tree burials, serving as symbols of reincarnation. They die and scatter, succumb to erosion along our coasts, fall to violent storms, or are harvested for important necessities.

Some trees stand tall after decades, growing over a hundred years old, with some documented to live thousands of years. A world without trees is unimaginable—their qualities are essential to our existence. Throughout time, trees have provided powerful themes for artists. Through painting, photography, sculpture, literature and performance, artists' connections to trees transform us through their creative interpretations.
Artscope Magazine, 2021
"Nature: C. J. Lori has been painting trees and skies for decades and she never ceases to find a new way to combine the two. In "Autumn Passing, an oil painting, she isolates a back-rock island covered with fall trees against a cerulean-hued sky with fluffy clouds. Her finely drawn leaf-bare trees, some with a few colored leaves, surround a water pond. Her symbolism is open to multiple interpretations and recalls the eerie space of Salvador Dali's surrealism, but she never veers away from nature's beauty."
̶̶̶ Beth Neville, writing for Artscope Magazine, May/June, 2021.
Array Contemporary
See virtual exhibitions and news of in-person shows with Array Contemporary, a Boston-based artists collective here: https://arraycontemporary.com/
It's All About Arts
, November, 2020
Read an interview with C. J. in the November, 2020 issue of It's All About Arts here: https://issuu.com/artstudio99/docs/november2020issue
Pandemic Lens
Check out C. J.'s 10 brief blogs with images on the Pandemic Lens website here: https://pandemiclens.com/?s=C.+J.+Lori
New Futures Series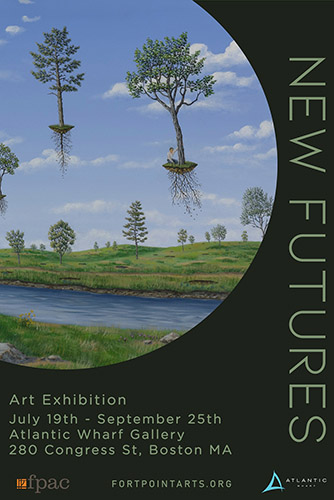 See an artist talk on the Fort Point Arts Community New Futures show here:
"Episode 2: Steve Bennett, Kelly Anona Kerrigan, and C.J. Lori", https://youtu.be/A8UaHf1s1Y4
BostonVoyager.com, June 2018
CHECK OUT C.J. LORI'S ARTWORK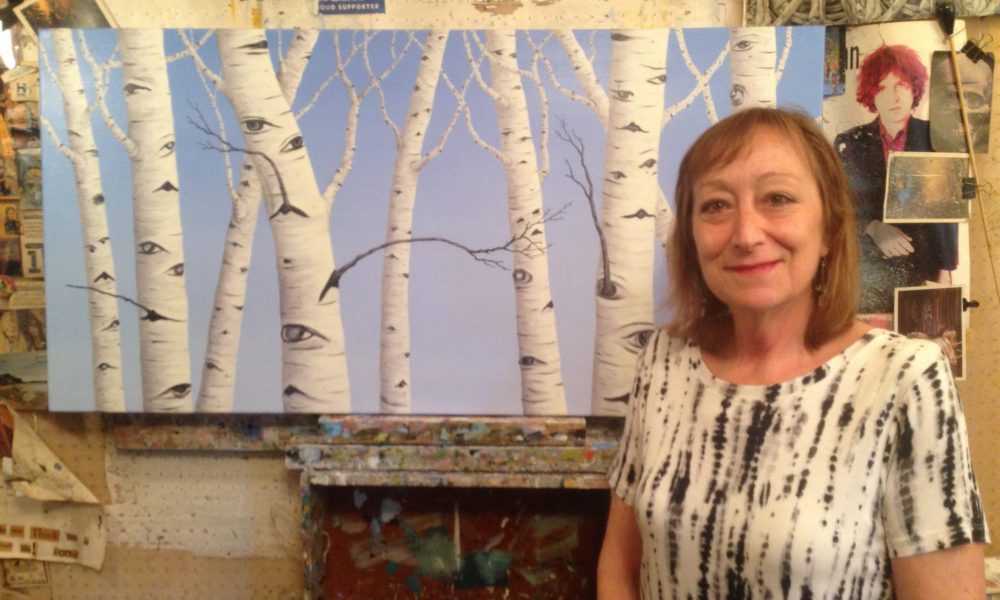 "For me, painting is a form of communication through which I convey my experience so that the viewer will see what I see and feel what I feel. I exaggerate or distort color, form and composition to emphasize sensations that are often contradictory: clarity and mystery, excitement and sorrow, beauty and decay.

I paint a landscape as a metaphoric portrait in which we can see ourselves. Branches have the quality of arms, a tree trunk recalls the twist of a torso, the bark suggests eyes and mouths of faces. Drawing connections between human features and the elements of landscape – rocks, trees, clouds, water – has always been central to my artistic practice. It both satisfies my imagination and expresses my desire that we see ourselves not as separate from, but as part of the living world around us.

I work in oil paint, applying many layers and often using tiny brushes for fine detail. Intricacy appeals to me viscerally, and it parallels the complexities I am trying to capture and express in my work. I strive to simultaneously embrace the beauty and horror that surrounds us."

Read the full interview:
http://bostonvoyager.com/interview/check-c-j-loris-artwork/
Brooklinehub.com, March 2016
ARTISTS GET READY FOR BROOKLINE OPEN STUDIOS
— by Vekonda Luangaphay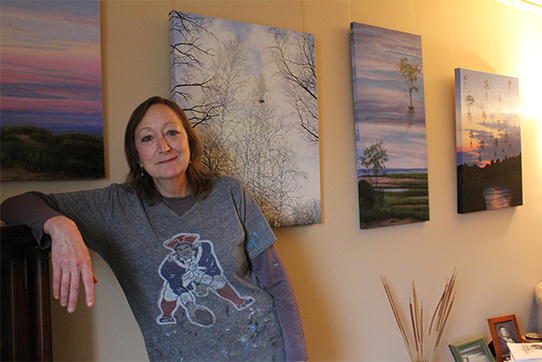 "CJ Lori has her own paintings on the walls of her apartment. The paintings are hung in the hallway, starting from the front door and leading into her living room and work studio. Nearly every year around this time, Lori sets up her home, welcoming guests to view her paintings of trees and nature.

Lori will show her work as part of this year's Brookline Open Studios, a three-day event where Brookline artists display and sell their work to art enthusiasts. This is the 30th anniversary of this event, and Lori will be one of 120 artists participating, displaying her best and latest art pieces from April 30 to May 1.

"It's getting to know what artists are like," Lori said. "That is what Brookline Studios is all about."

Lori plans on showing about 45 pieces this year from 11 a.m. To 5 p.m. each day of that weekend. She puts oil paint on canvasses to illuminate her inspirations and imagination. She would come home from her frequent trips to Ireland with pictures of beaches, rocks, cliffs, waves, and where the sun sits. She'd walk around Brookline, absorbing the scene, and taking pictures or mental notes of many simple things, especially of trees.

Among many objects she paints, it's through painting trees that she expresses her fascination with anthropomorphism, or ascribing objects with human traits. She's painted trees with sad faces, branches as arms, and the leaves as hair. Some trees resemble the process of aging, happiness, or a state of bliss or zen. One of her paintings, "Conversation in Birch," feeds one's imagination on what talking trees look like.

"I'm inspired by the natural world and our relationship to it," Lori said."

Read the full article:
http://www.brooklinehub.com/artists-get-ready-for-brookline-open-studios/
ArtVoices Magazine, Winter 2014
CJ LORI: WHATEVER DIRECTION I GO IN
— by Liz Goldner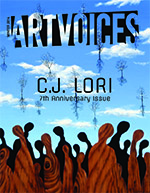 Download .pdf
The Brookline TAB, July 6, 2000
STATE OF THE ARTS
— by Kelly Field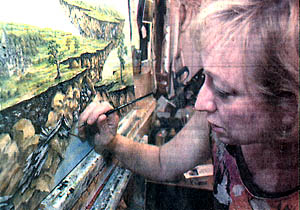 Photograph of C. J. Lori, caption: "Brookline Artist C. J. Lori puts the finishing touches on a recent painting Sunday."
The Boston Globe,
May 21, 2000
EXHIBIT'S JURORS CHOOSE TALENT OVER THEME
— by David Wildman
"C. J. Lori, who has shown previously at the Revolving Museum, offers a painting typical of her unusual and distinctive style: A mysterious, dark, subterranean vista lurks beneath a placid landscape."
The New York Times,
February 6, 2000
DRAMA IN NATURE: BURNING OIL FIELDS, CASCADING WATER
— by William Zimmer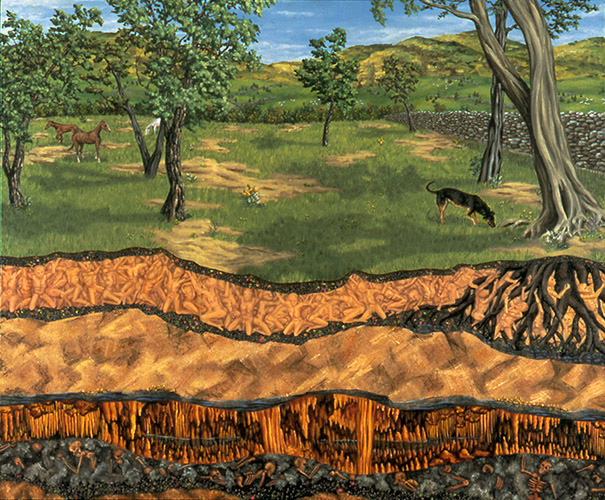 "The best representatives of earth in the exhibition are paintings with a fair amount of creepiness. 'Last Chance Archaeology,' by C. J. Lori, is ostensibly a pastoral landscape, but this is cut off in the foreground by a depiction of strata and the existence of other civilizations."
Arlington Advocate, January 6, 2000
CENTER FOR THE ARTS EXHIBIT REVIEWS TIME, LOOKS TOWARD FUTURE
— by Chris Richards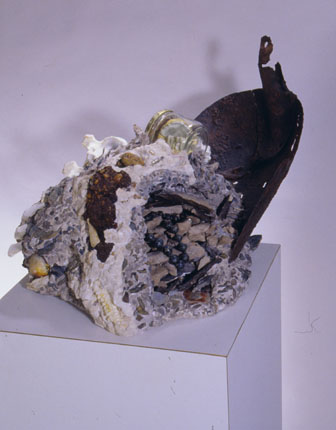 "Brookline native C. J. Lori accomplishes this feat through her work entitled 'The Family Plot.' Accumulating personal artifacts from her nuclear family, Lori glues together all sorts of relics, including her grandfather's dentures and her grandmother's beads. By locking these pieces together in time, Lori has created a powerful image which yearns to escape from it's past."
ArtsMedia, January/February, 2000
ARTIFACT: PAST, PRESENT, FUTURE
— by Mary Sherman
The Brookline TAB, April 15, 1999
OPEN SPACE: THE FINAL FRONTIER
— by Kirk W. LeMessurler
The Boston Globe, February 27, 1997
— Cate McQuaid, from the review of Travels Near and Far at Cragin Fife Gallery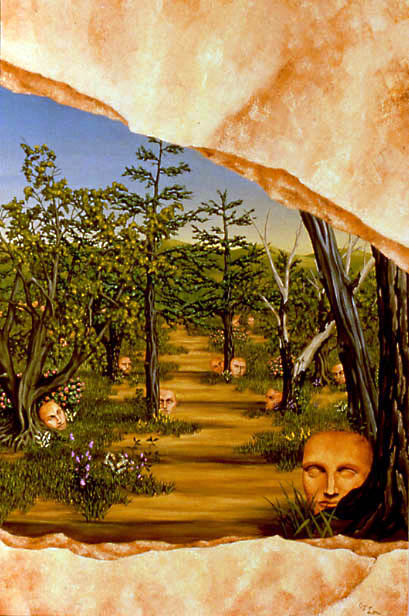 "C. J. Lori's painting 'Still Thinking' wedges its fantastic imagery between two textured stretches of pink, like a cracked-open sandstone—or a cracked-open skull, as the image inside implies.
"It's a meticulously painted marshy landscape, with every single blade of grass defined. Knotty gray pines twist upward. Nestled on the ground in the crook of a few tree roots are empty-eyed human heads. One, at the foot of a dead tree, has lost its skull cap. It's circular imagery; Lori has us peering into the dream of a character in the dream itself."
Art New England, October/November, 1997
BOOKS
— by Alicia Faxon
The Weekly TAB, February 6-12, 1996
ART CAUCUS TO HOLD CONFERENCE IN BACK BAY
— by T. J. Medrek Jr.
The Harvard Gazette, October 23, 1992
Big Beans, September, 1991
NEO-NON-ISM: THE ARTIST'S OWN VOICE
— by Virginia Aronson
The Boston Phoenix, July 16, 1985
URBAN EYE, BRUSH STROKES
— by Robin Vaughan